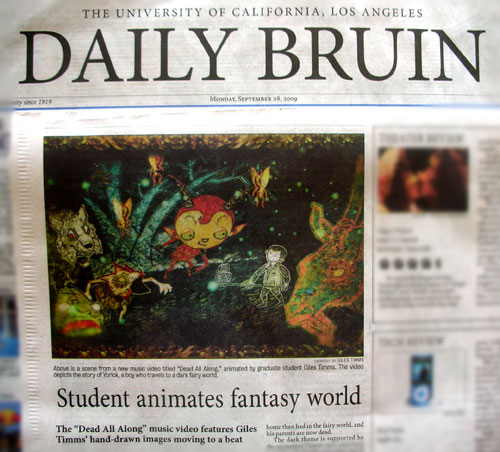 The UCLA Daily Bruin newspaper featured an article about my work on my animated music video, 'Dead All Along,' in today's paper, Monday, September 28th 2009. Ceri Frost, the musical artist, and Bill Barminski, of Walter Robot Studios, were also interviewed. I had the honor of having Bill Barminski on my thesis committee for 'Dead All Along' :)
Katie Meschke was the writer for the article and did an excellent job putting the whole thing together. Thanks Katie!
Also, thanks to Maryia Krivoruchko, the musical editor at UCLA Daily Bruin newspaper!
'Dead All Along' was created at the UCLA Animation Workshop at UCLA's School of Theater, Film and Television.