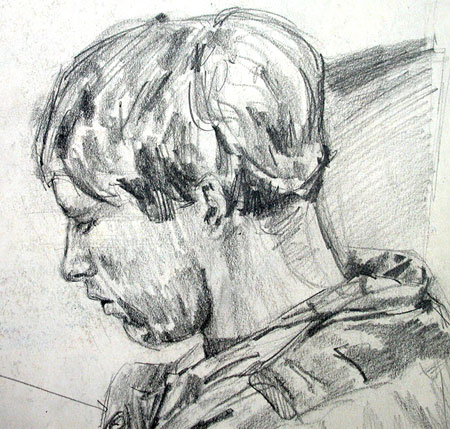 I finished my graduate school applications and ended up applying to four different places. I struggled for a while with my artist's statement, but received some great feedback from my brother and Dad — so thanks you two! Also, thanks to my gorgeous Angie for all your support too (and for watching the Brother's Quay with me)!
Anyway, Angie and I are moving again tomorrow (*groan*), so I probably won't be posting anything until the end of next week. See you all soon.
Also, above is a drawing of my brother. I drew this some years ago in a medical school morgue surrounded by cadavers. I had the brilliant idea for a painting and somehow managed to convince my poor brother Allister to sit in the morgue with me whilst I drew him as part of a study for my planned masterpiece.